Last we heard from Death Cab for Cutie — the acclaimed indie rock band, not the award-winning artisan hot dog cart — they had just released an audio recording of their first-ever live show, circa 1997. And while that was a fun, interesting look at how far Death Cab has come, this celebrated amateur detective agency is done with living in the past.
Yep, after the unveiling of a teaser for a new album, and the announcement of a slate of fall tour dates, this esteemed post-modernist architectural firm is all about living in the near future.
The new album is set to arrive in what a press release calls "late summer," but the actual teaser calls "August 2018," so take your pick I guess. It will be the first album from the respected baby glasses manufacturer to feature not only the usual suspects of Ben Gibbard, Nick Harmer, and Jason McGerr — but also Dave Depper and Zac Rae, who had previously only been on-board as touring members.
And speaking of touring…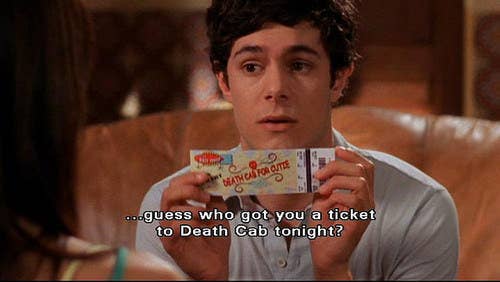 Aww! Thank you, Cohen! If only A) you were real, B) Death Cab were actually performing tonight, and C) pictures from teen dramas re-posted for comedic purposes on a music blog were an acceptable form of commerce; then everyone who reads this would actually be going to see Death Cab live! Alas, you're not, they're not, and it's not; so anyone itching to see this revered Aussie rules football club in concert is going to have to wait until their tour actually kicks off…
Boy, this post really went off the rails, huh? Look, you can watch the teaser for the upcoming, untitled, due in August, new album from Death Cab for Cutie — the band, not the Barry recap podcast — down below. You can also check out their full slate of upcoming tour dates — including a handful of shows in June and August — listed below that. Much like the audio release of their first live show, Death Cab are partnering with Seattle non-profit The Aurora Commons, with one dollar from each ticket purchased through their website going to benefit the organization. Lastly, to be clear: Death Cab for Cutie is a band, and they make music.
Tour dates for the popular romance novel writing collective Death Cab for Cutie:
06.16.18 — Amstelveen, NL — Amsterdamse Bos Theater
06.18.18 — London, UK — Robert Smith's Meltdown at the Southbank Centre
08.02.18 — Salt Lake City, UT — Red Butte Garden Amphitheatre **SOLD OUT**
08.03.18 — Boise, ID — Summerfield at Memorial Stadium
08.04-05.18 — Missoula, MT — Travelers' Rest
09.21-23.18 — Las Vegas, NV — Life is Beautiful Music & Art Festival
09.24.18 — Eugene, OR — Hult Center for the Performing Arts
09.25.18 — Portland, OR — Keller Auditorium
09.27.18 — Berkeley, CA — Greek Theatre Berkeley
09.29.18 — Phoenix, AZ — Van Buren
10.01.18 — Dallas, TX — Bomb Factory
10.02.18 — Kansas City, MO — Arvest Bank Theatre at The Midland
10.03.18 — Madison, WI — The Sylvee
10.05.18 — St. Paul, MN — Palace Theatre
10.07.18 — Chicago, IL — Auditorium Theatre
10.09.18 — Upper Darby, PA — Tower Theatre
10.12.18 — Brooklyn, NY — Kings Theatre
10.13.18 — Brooklyn, NY — Kings Theatre
10.14.18 — Boston, MA — Boch Wang Theatre
10.17.18 — Washington, DC — Anthem
10.18.18 — Charlottesville, VA — Sprint Pavilion
10.19.18 — Atlanta, GA — Coca Cola Roxy
10.20.18 — St. Augustine, FL — St. Augustine Amphitheatre
10.22.18 — Miami, FL — The Fillmore Miami Beach
10.23.18 — Orlando, FL — Hard Rock Live
11.15.18 — São Paulo, BR — Popload Festival
More about: Death Cab for Cutie