In my Legowelt dossier, his real name (Danny Wolfers) isn't so important, though I like to remember his seldom-used but delightful aliases such as Nacho Patrol, The Psychic Stewardess, Jackmaster Corky, and Twilight Moose, among others. He's been putting out tracks since at least Y2K, but I never think of him as an old-timer, since his new material sounds as fresh as ever. All evidence seems to suggest he lives in The Netherlands, yet in my head he resides in the harsh wintery climate of Berlin - and I say, let him live somewhere where the temperature stays around zero degrees, if it means more time spent in the studio cranking out club freak fireworx like "Deep Magic Begins Here."
Nothin' but a gnarly hardware setup and intricate knowledge of it makes this track possible. Lord knows how many synth tracks are going on at any given time, yet it never feels cluttered, or rather it does in the gorgeous way that a lit-up city skyline at night looks cluttered, all the parts combining into something beautiful and calling to mind the million dreams of the city's residents.
I keep refreshing the track, ostensibly to write about it, but end up just dancing in my room instead. Perhaps this gif can explain the mood of the track better than I can: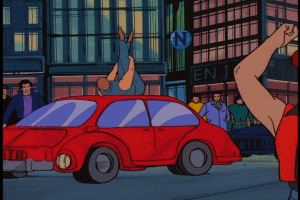 Check out Legowelt's website (listed below) for info on upcoming shows this month in Amsterdam, Dublin, Cologne, and Frankfurt.
• Legowelt: http://www.legowelt.com
More about: Legowelt