Stylistic shape-shifter secures Spanish songwriter, summons stately suite. Such is the simple, succinct story of All Hands Around the Moment the new collaborative album from Richard Youngs and Raül Refree. The duo's first release together, it comes out in December via Soft Abuse.
Composed of four extended pieces, All Hands Around the Moment deals heavily in repetition. Within a song, the same phrases will occur over and over again, as the piece almost glides across the surface of time. A little bit chamber folk, a little bit jazz, and a lotta bit minimalist, the sound easily engrosses you, wraps you up and carries you. Then suddenly it's all over and you wonder into what dimension the last several minutes fell into.
Such can be heard on "Nil By Mind", the album's second track that TMT is premiering today. Acoustic guitars dance in deliberate circles around each other, as strings and piano work to simultaneously create inklings of dread and uplift. Everything feels ever so slightly out of step with everything else, yet perfectly in balance.
Hear for yourself by listening "Nil By Mind" off of the Richard Youngs and Raül Refree album All Hands Around the Moment down below. And while you do, make sure you check out the album's artwork and four song tracklisting too. All Hands Around the Moment is out December 6 and can be pre-ordered here.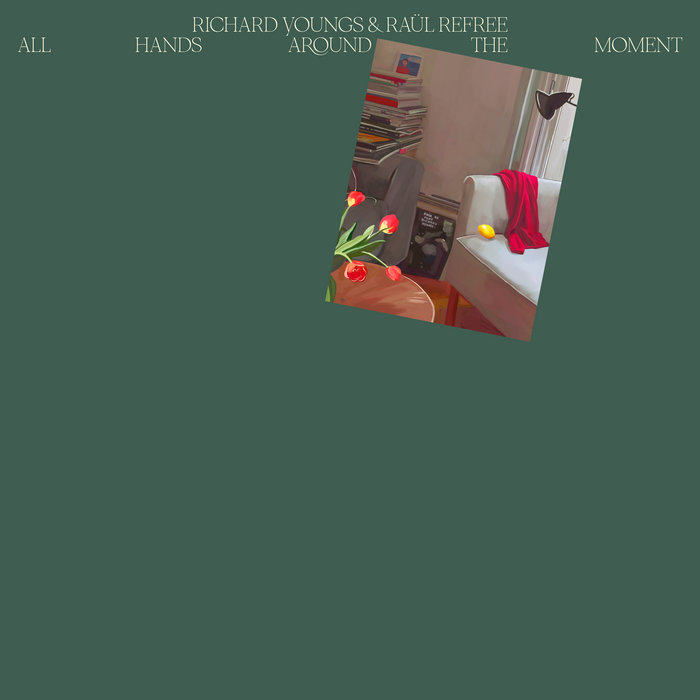 All Hands Around the Moment tracklisting:
01. Time is an Avalanche
02. Nil By Mind
03. Another Language
04. Follow My Sleep
More about: Raül Refree, Richard Youngs